Please join us as we take time to remember our inspiring benefactor, Mr David Rayner, who sadly passed away in January this year.
Help us to celebrate his unfailing humour and love of the land by joining us in a bring and share lunch within the Centre that he fondly established through the Scotsdales' Charitable Foundation.
We will host a Bring and Share lunch at the Centre on Wednesday 15th March 2023 at 12noon. All welcome.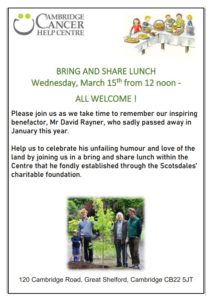 A life of humour and integrity: Scotsdales Garden Centres founder David Rayner dies at 94 (cambridgeindependent.co.uk)