Pat's Art Group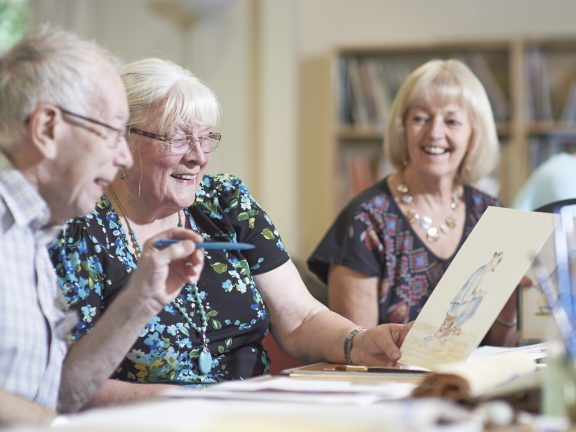 The art group meets weekly on Wednesdays from 10 am to 2 pm. This very popular group is available to everyone from complete beginners to the more experienced. Although the medium most preferred is watercolour paint, pastels, crayons and pencils are also used.
Art has the potential to take away the worries and concerns of the day as you become absorbed in the creative process. Through the sharing of skills and knowledge, members are encouraged to draw from each other's inspiration and develop their techniques.
Pam's Craft Group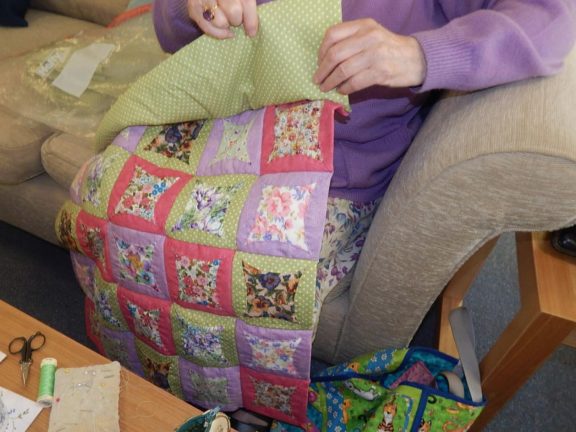 The craft group meets weekly on Tuesdays and is open to everyone. No skills are required other than the ability to sit with others and enjoy learning or practising a wide range of crafts including knitting, patchwork, card making, sewing and tapestry.
We regularly organise workshops on specific techniques such as felting, jewellery-making and creating Christmas decorations. If you have a skill which you would like to share, we would be delighted!
The Mindfulness Group
Through meditation we learn how to reduce anxiety and stress by experiencing how to calm the mind. We also learn how gradually to develop a more positive attitude to life. Through mindfulness, we learn to see that we have choices. Mindfulness enables us to develop a better understanding of ourselves and those around us.
As a group, we don't take ourselves too seriously but try hard to see the joy of life however difficult the circumstances. Mindfulness helps us to live in the 'now' or in the 'precious moment'.
The group meets at the Centre on Tuesdays from 10 to 11 am. All are welcome.
Carers' Corner
Do you care for a friend or relative? Would you like to meet others who also care for somebody with cancer or other long term illnesses? Then come along to CARERS' CORNER, a space provided for carers only. Held at the Centre on the first Monday of every month from 10:15 to 12 noon.
For more information, please speak to Azra in the Centre office or on 01223 840105.
Classical Dance for Fitness & Fun
These sessions are for anyone who would like to learn to improve their suppleness, strength, posture and breathing techniques. You don't need previous dance experience and you can join in at any time. All sessions are tailored to the abilities of those who come and if you wish to 'sit out' any of the exercises, that's fine.
You don't need to wear anything special either .. just warm, comfortable clothing which allows you to move around freely and soft slippers or trainers.
Courses are run several times throughout the year. If you're interested in joining one or for more information, please email Sue Pocock at [email protected] or call into the Centre on any Wednesday for a chat.
Creative Writing Workshops
These workshops have the twin aims of developing writing skills and using writing for self-development. In developing writing skills, we explore techniques relevant to a broad range of genres. In exploring and growing the self through writing, we discover that writing is a powerful way to discover our opinions, thoughts and feelings and to uncover memories. The emphasis is on creativity and self-expression rather than punctuation, spelling and grammar.
Workshops are held every other Tuesday from 2 to 3:30pm.
Just come along .. no writing experience is necessary!
The Gardening Group
Scotsdales have generously donated a number of raised beds to enable us to grow organic vegetables in season. Help is always appreciated with planting and maintenance! For demonstrations of how the produce can be used to make nourishing meals, please come along to Toni's nutrition group!
The Computer Group
This friendly drop-in class is held on Monday mornings from 10 am till 12 noon and is intended for those who would like to know more about how to use a personal computer or iPad. You will learn the basic skills needed to use email and the internet as well as other common programs. The class is suitable for people of all ages and is taught in a conversational and non-technical style.
Social Activities
Walking and talking is great 'therapy'! So, when the weather allows, we meet each week for a walk around Parker's Piece. Having all gathered together, everyone sets off at their own pace: some slowly, some more quickly. We aim for a maximum of two circuits and then recover over tea and cake at Livingstone's cafe!
We also like frequenting restaurants. Lunch at the Lazy Otter is popular as are visits to the WokNGrill and Zahra Grill. Every Saturday, a group of us meets for breakfast at Scotsdales Garden Centre. Occasionally we meet for breakfast at Fordham Garden Centre.
If you would like to join in any, or all, of these activities, you'll be very welcome. Please speak to Ann Dingley for more details.
Outings
We also offer a variety of outings to suit different tastes. These are open to everyone although advanced booking is essential to secure a place. We do make a charge to cover costs.
If you'd like to know more, please speak to Ann Fleming.
Other Activities
Many other activities take place in the Centre from time to time as members discover and share their common interests. These include chess, other board games and doing jigsaws. If you have an interest you would like to share, please come along and let us know