Trustees of Cambridge Cancer Help Centre
The Trustees are responsible for the overall governance and development of the Centre. They include people who have worked for the Centre as volunteers, often over a number of years, as well as others recruited for their specific skills and interests.
They play an active part in the running of the Centre, supporting the Centre Management Team, volunteers and members as required.
Ted Sage, Chair
After training as an engineer in Cambridge, Ted worked for several large companies in senior operations roles in the UK and the Far East. He became a trustee of CCHC in 2008, initially as Secretary, and has been Chair since 2010.
Bob Jackson, Treasurer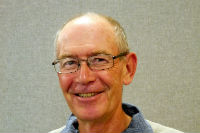 Before retirement, Bob worked for nearly 40 years in finance. He was diagnosed with Prostate Cancer in 2000 but, thanks to successful treatment, is still here. He has been the Centre's Honorary Treasurer since 2009.
John Skilbeck
After an early period in academia, John worked as a consultant and senior manager with and within a wide range of organisations from start-up to blue-chip. He has held a variety of roles primarily in operational, commercial, partnership, project and change management. Now retired, John became a trustee of CCHC in April 2014.
Janet Hickman
Janet has run the Macmillan courses at the Centre for 9 years. She is a Macmillan HOPE Facilitator and Assessor, an Expert Patients Programme Facilitator and has recently been trained to be a Macmillan Lead Trainer. She became a Trustee in 2011.
Fran Dawson
A long-standing member of CCHC after being diagnosed with cancer in 1993, Fran became a Trustee in 1993 and Chair soon afterwards. She is trained in counselling, and is a Holistic Therapist qualified in Aromatherapy, Massage and Reflexology. A second occurrence of cancer was diagnosed in 2001 but she says that, as she is still here and still a Trustee, there must be something special about this place!