About UK Pie Party … Obviously we're set up to raise money, to fight cancer, using Pies. That's half of what we do. The other half is that we hope to make a difference to children and adults suffering because of cancer by giving them space to fight back at cancer while laughing
– either by taking a Pie or finding someone to take a Pie for them or throwing a Pie or sponsoring a Pie, knowing that every Pie taken raises money and beats cancer a little more.
Almost like they're throwing a Pie in the face of cancer.
All you have to do is turn up.
The events are organised by Nicky Vere-Compton, Party Leader of the UK Pie Party.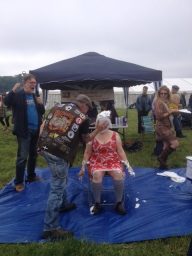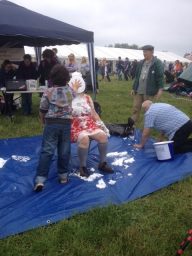 Dates for UK Pie Party Fundraising Events:
| | | |
| --- | --- | --- |
| Date | Venue | Beneficiary |
| 4th June | Strawberry Fair, Cambridge | CCHC |
| 18th June | Pets in the Park, Cambridge | CCHC |
| 23rd/24th June | Midsummer Fair, Cambridge | CCHC |
| 2nd July | Bury Folk Festival, Suffolk | Teenage Cancer Trust |
| 16th July | Codicote Family Fun Day, Herts | tbc |
| 17th July | Milton Country Park, Cambridge | CCHC |
| 5th, 6th, 7th August | Halesworth Big Gig, Suffolk | tbc |
| 28th August | Charity Fun Day Cleethorpes, Lincs | CRUK |
| 2nd, 3rd, 4th September | Maui Waui Festival, Suffolk | tbc |